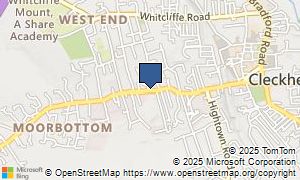 Trade Cars Cleckheaton
75 Westgate,
Cleckheaton,
BD19 5HS
Telephone: (07812) 034432, (01274) 850824
Website:
http://www.tradecarscleckheaton.co.uk
Trade Cars Cleckheaton is a used car dealer in Cleckheaton stocking a wide range of second hand cars at great prices. Visit us today for affordable used cars in West Yorkshire.
Average score:
based on 2 votes
mark mountain - Monday, 9th March 2015
i have bought two cars from them they were half price to outher dealer prices the first car i had two years still going strong my second car bought two months ago the first thing i did was book it in for full service at my garage who i use for repairs as pece of mind car is spot on runs better than expected i say a1 to the sales and service of trade cars. ive had no problems what people dont realise these cars are cheaper than other garages and you are allowed to test drive and inspect before you buy. but some people think that you can get a cheap car dive it away without doing this . i go view the veicles regualy some cars do need a bit of work but biggest part of them are spot on. ile be back when i need another car
LISA JENKINSON - Wednesday, 1st May 2013
PLEASE DONT EVER EVER BUY A CAR FROM THESE THIEVES, THEY SOLD ME A CAR FOR £995 TURNED OUT NOT ONLY WAS IT ONLY WORTH SCRAP VALUE IT WAS HIGHLY DANGEROUS TO BE ON THE ROAD AND IT WASNT A 4 WHEEL DRIVE AS ADVERTISED SOMEONE HAD REMOVED THE PROPSHAFT SO IT WAS ONLY A 2 WHEEL, NO COMEBACK AND LOST A GRAND, IF YOU MUST USE THEM MAKE SURE NEVER EVER WITHOUT AN AA INSPECTION FIRST WOULD HAVE BEEN 0 STARS BUT HAD TO PUT ONE
Have you purchased a vehicle from Trade Cars Cleckheaton before? Possibly you've tried their services before? In case you would like to give an evaluation to express your comments, or maybe help out others, please fill in the review form below.
We'd love you to mark Trade Cars Cleckheaton out of five on these areas. If you are not considering writing a review, you could just decide on a rating for the dealership. If you wish to leave a review as well, then please complete the form underneath.
0 reviews currently waiting editorial
Want to add a review of Trade Cars Cleckheaton? Click above...
Please type any UK registration number in
now for an instant valuation
You can alternatively get a free valuation
for your vehicle, courtesy of
WeBuyAnyCar
If you do not know the number plate of the vehicle you wish to value, you can get a valuation by selecting car details using the
form below: