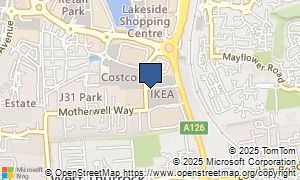 Mercedes Benz Of Lakeside
Lake Side Estate, Heron Way,
West Thurrock,
RM20 3WJ
Telephone: (0843) 3096564
Website:
http://www.jardinemotors.co.uk/mercede...
All the latest Mercerdes-Benz news and offers from the Jardine Motors Group.
Could you be a previous client of Mercedes Benz Of Lakeside? Kindly submit any feedback, views or criticisms you'd think may be advantageous to other potential customers.
Please score this dealership out of 5 on these points. If you are not thinking of writing a review, you can just decide on a rating for this dealer. If you'd like to leave an evaluation also, please fill in the text boxes underneath.
0 reviews currently waiting editorial
Want to add a review of Mercedes Benz Of Lakeside? Click above...