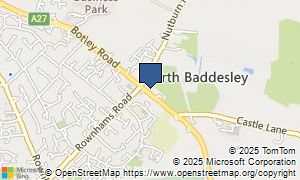 Imperial Motor Company
133-145 Botley Road, North Baddesley,
Southampton,
SO52 9EB
Telephone: (0843) 3095314
Website:
http://www.imc-cars.co.uk
Imperial Motor Company is a used car dealer in Southampton stocking a wide range of second hand cars at great prices. Visit us today for affordable used cars in Hampshire.
Average score:
based on 6 votes
Many thanks from a very happy customer
Wayne
Wayne - Friday, 20th February 2015
I had a pleasant and professional experience with this company. I think the other reviews that are negative on here are just over reacting or haven't bought cars before. I would defiantly buy from this dealership again. They are RAC agents and give you 3 months warranty what more could you want. Ollie Fowler is also an asset to the great team at IMC.
We viewed and test drove the car last weekend, which was advertised with FULL service history, but they could only provide evidence of 3 service records on a 2004 vehicle. To cut a long story short, they could not provide the evidence and they were not prepared to pay £30 for new handbooks, so we said we wouldn't part with any money, which was also going to include the cost of a fresh MOT (which we originally offered to pay). So then my husband replied to the salesman's email to say we would not be proceeding with the sale!
This afternoon, my husband received a call from the sales manager who was calling to say he had put an MOT on the vehicle as agreed. My husband then had to stop him to say we had said we were not proceeding with the sale. At which point he started shouting at my husband, saying we were known in the business as time-wasters, then when my husband tried to defend himself, the guy hung-up on him.
My husband called back to speak with the young 16 year old guy who had originally served us (very politely I might add), to thank him for his time but to inform him that after the abusive telephone call, we will be taking the matter further and putting up a negative review(s) about the company.
After which, my husband received another call from the sales manager asking 'whats your problem', at which point my husband hung-up.
This garage needs to be struck off - I am tempted to report them to Watchdog!!
Subsequently, we have found a much nicer garage to do business with to purchase our car.
The 1 star I have awarded for service, is for Ollie, the young lad who is unfortunate enough to be employed there, who will no doubt be taught the same tricks of the trade, as his peers!!
Lisa Harding - Wednesday, 12th November 2014
We have recently viewed a vehicle at Imperial Motor Company or IMC in North Baddesley, outside Romsey, Southampton. DO NOT USE THIS GARAGE!!
George Cunningham - Wednesday, 11th June 2014
I Purchashed a Audi A5 Sport in march 2014. I found the salesman very professional and my wife & myself are very happy with our purchase at a good price to. There was only one small aftersales issues which was resolved with a no quibble attitude.
Martin Bradbury - Tuesday, 1st April 2014
Avoid this dealer at all costs, I brought a Renault scenic from this garage only to have a number of issues with the car only days after picking it up. the owner GARY WHITLOCK refused to take any calls from me failed to reply any of my letters of complaint. Luckily I paid the deposit on credit card, so was able to successfully claim a full refund under section 75. reported to trading standards. AVOID AT ALL COSTS!!!
MICHAEL KALISPERIDES - Monday, 23rd December 2013
IN REFERANCE TO MY REVIEW OF COSTS FOR THE FLYWHEEL REPAIR IT SHOULD HAVE BEEN £861 NOT £8861 AS I MISTAKENLY PUT IN TWO EIGHTS INSTEAD OF ONE ON MY REVEIW!!
MICHAEL KALISPERIDES - Sunday, 22nd December 2013
purchased car a FORD MONDEO DEISAL ESTATE on the 23rd of september 2013, the car was higher mileage than stated but after driving car we were quite pleased and offered £3500 if it came with a warranty and the deal was accepted, if the warranty was not offered we would not have purchased the car!! warranty was never honoured after numberous phone calls and a visit to the showroom, same old bull ITS BEING SORTED OUT!! about 5 weeks after purchase had to replace the DUEL MASS FLYWHEEL, WITH 2 PEICE CLUTCH KIT AND SLAVE CYLINDER a total cost of £8861.32, which would have been covered by the warranty if issued, the owner GARY WHITELOCK obviously does not bother with purchase of warrantys for cars, after advice from SOUTHAMTON TRADING STANDARDS to the small claims court, avoid this dealer like the plague, totally dishonest dealer!!
Could you be a previous consumer of this dealership? Did you get excellent value for money from them? Please submit some details on your experience with Imperial Motor Company.
We'd love you to mark this dealership out of five on these points. Should you only wish to leave a score and not an assessment, then click the 'Add Rating' button after you're happy. If you'd like to write an assessment as well, we would love you to fill in the form below.
1 reviews currently waiting editorial
Want to add a review of Imperial Motor Company? Click above...